Best Plan Manager For COS
Coordinators Of Supports are our most important partners in NDIS. See why they're bringing all their participants over to My Plan Support.
Having the right NDIS plan manager for your participants, makes a world of difference for Coordinators of Supports.
Here are a few reasons why:
1
All Your Participants On One Page
..a birds-eye-view summary of everyone together – so helpful.
2
Access To Live Participant Portal
..see all expenditure on the plan, grouped by provider. Amazing!
3
Get Email Notifications
..we'll tell you when a plan is running out or a participant is overspending. Don't miss a thing.
4
Instant Online Signup
..help your clients get connected immediately.
5
One-On-One Relational Plan Management
..each participant get cared for by just one administrator. Always familiar.
All Your Participants On One Page
Imagine starting your day like this: with a bird's-eye-view of all your participants. At a glance you can see whose plan is ending soon, who is overspending and who is not utilising their funds.
When My Plan Suppport is NDIS plan manager for your participants, they have the option of granting you access to their live portal and it's summary.
This data is updated live. as soon as we receive an invoice and enter it into our system, the budgets are updated immediately, even before the payment requests are made. That makes this data the most accurate data available on your participant's expenditure.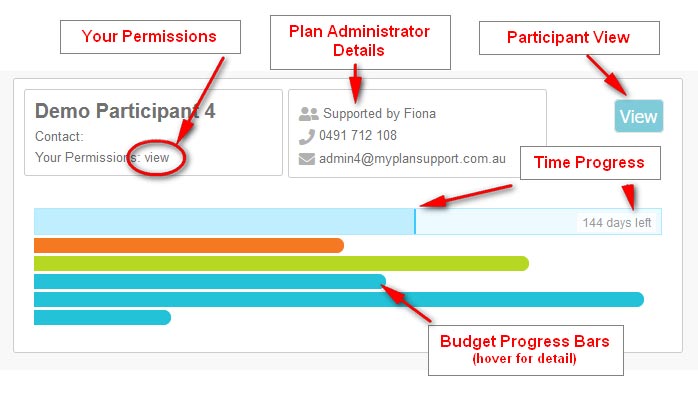 When you look at each participant for which MPS is the NDIS Plan Manager, you can see:
How many days are left
How many dollars are left in each budget
What permissions you have been given by the participant
Which of our plan administrators are caring for them
How to directly contact that person.
When you click the "view" button, you are able to see what they see in the portal. Let's look forther into that.
The My Plan Support Participant Portal

Here you see exactly what the NDIS participant sees if they log in to their MPS Plan Management Portal. It's a comprehensive budget report, grouped by categories "Capacity Building", "Capital" and "Core" and populated with each of the budgets in their plan.
In each case a segmented progress bar shows you the breakdown of providers who are using the funds. This is the only place where you can get this information regarding the participants you care for and it can help you to see whether they are on track and why. You can even see what their weekly spend needs to be in order to utilise their budget in the allotted NDIS plan time.
My Plan Support is redefining NDIS Plan Management for Coordinators.
Provider allocations can be set up by your plan manager for NDIS participants who have regular services and charges and want to make sure they don't run out of funds approaching the end of their plan. The allocation appears as "spent" money with a new a smaller progress bar showing how far we are through that allocation. (see the "Assistance With Daily Life" budget in the screen shot for an example).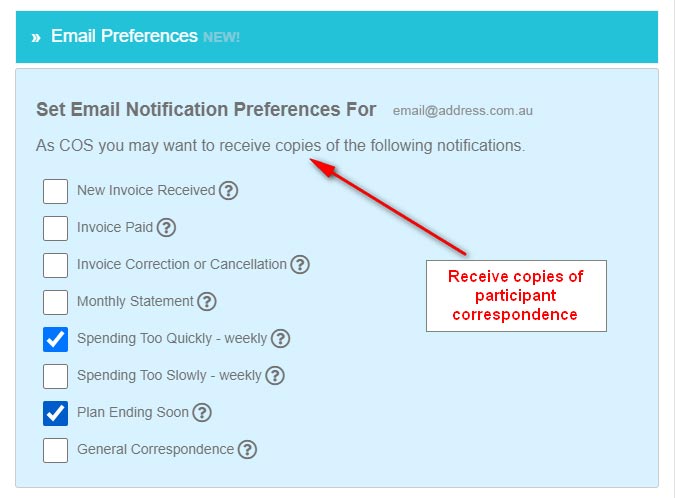 As an NDIS plan manager, our job is to make easy for you to do yours. To that end, we've setup Coordinator Of Support's email preferences. Here you as the COS can elect to receive copies of various correspondence types when we send them to your participants.
So when you would like to be notified if someone is over-spending, underspending, or if their plan is about to end, then just click the button and put your mind at ease.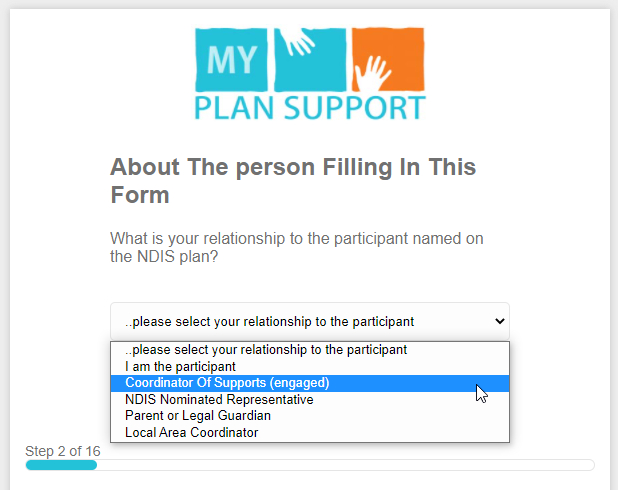 Your participants can signup instantly for NDIS plan management, you can even show them how. During this process you can either identify yourself as their Coordinator and declare that you are authorised to sign them up, or they can nominate you as their Coordinator and grant you viewing access to their portal.
It's a step by step wizard form, so your participant doesn't get cluttered with too much information at one.
What they will need is their NDIS number and (preferrably) a copy of their plan. Then they simply need their personal details and they're right to go.
If you ever have trouble, have them call us while you're with them and we'll talk you both through.
One-On-One Relational Plan Management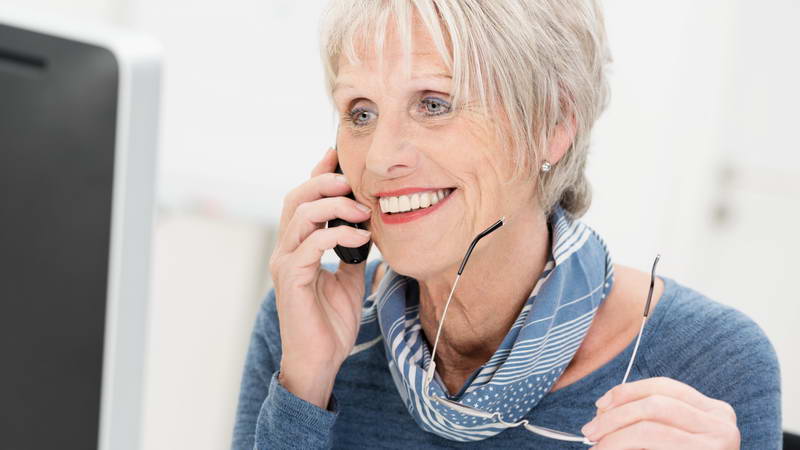 The NDIS is about people. It's awful to call a random support person and have to tell them your story all over again. That's sub-standard service, expecially for people living with a disability.
At My Plan Support, we assign one plan administrator to each participant and give out their direct number and email. Every time they ring or write (or you do for that matter) they speak to the same person who is familiar with thie plan and their needs. Now that's just how it ought to be.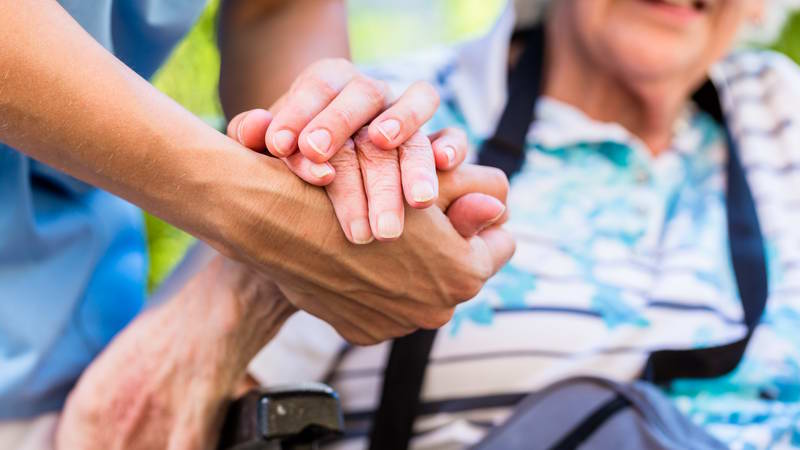 By now you're thinking about all the ways that My Plan Support NDIS plan management will help you do your job as a Coordinator Of Supports. If you don't already know about our super-fast turn-around times or our industry-leading review ratings or our policy of "one administrator per participant", then head on over and read more about it here.
But, if you're already convinced, simply register with us and we'll call to talk you through all the features and send you some information in the mail. It's that easy. Before long you'll want to bring all your participants over to My Plan Support.
Relevant documentation and service agreements are all linked at the bottom of this page.
Chatting is often the easiest way to get started. Our friendly staff will call you back so you don't have to wait in a queue. Drop in your best contact number and we'll do just that.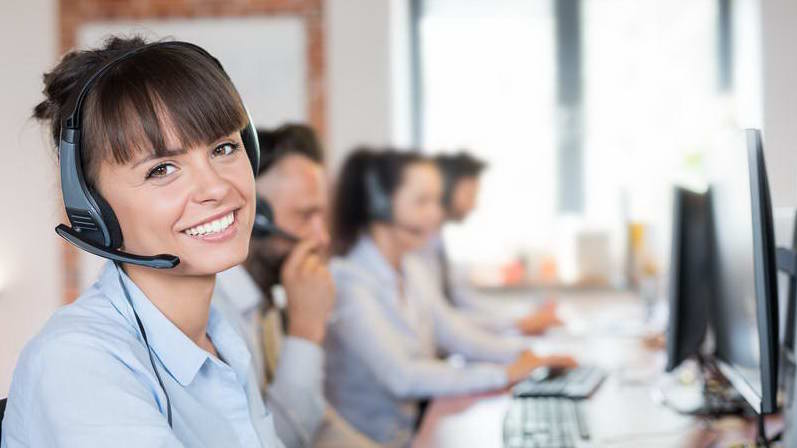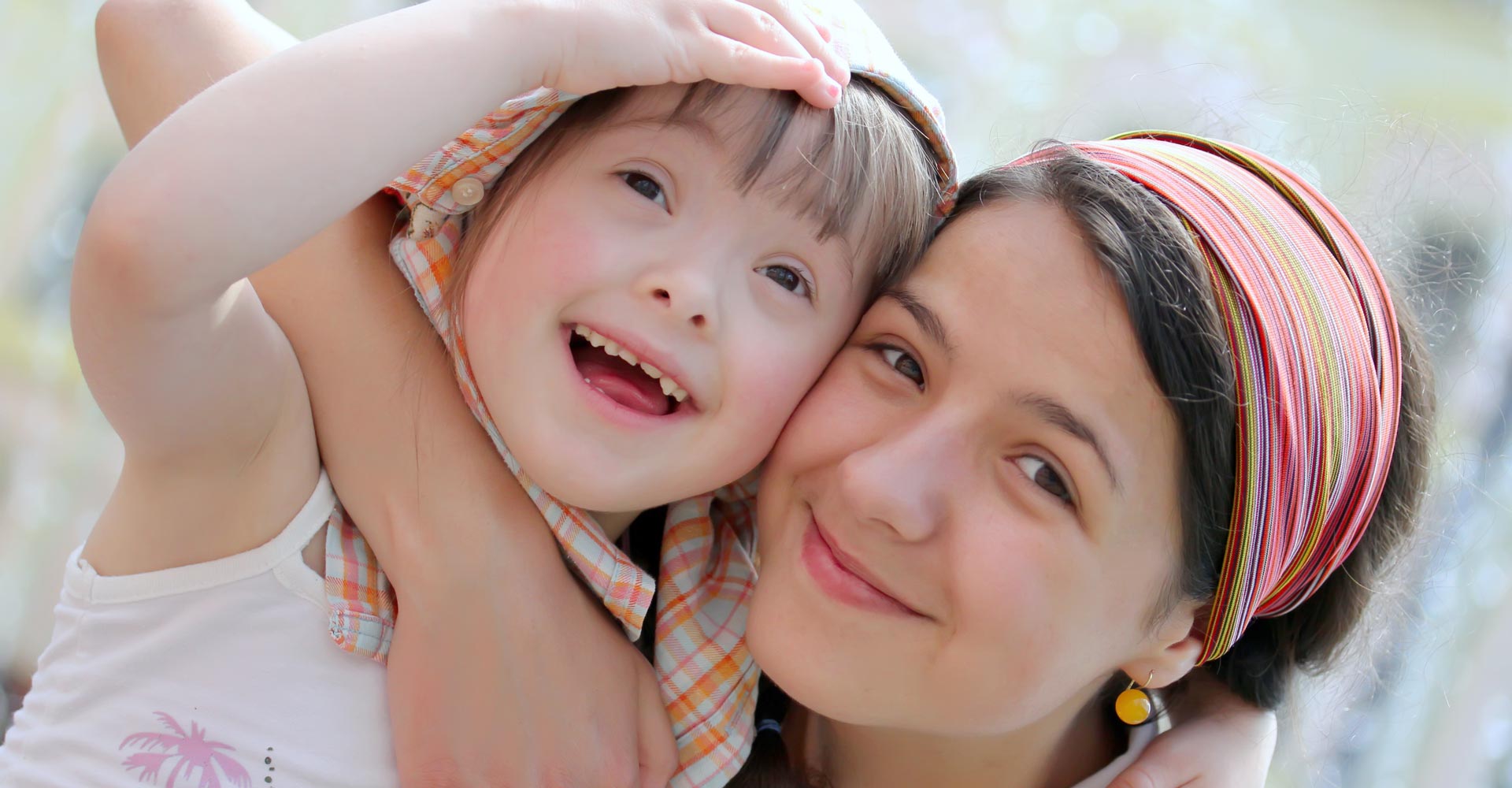 NDIS Plan Manager
Everything you need to know about plan management and how to get started with My Plan Support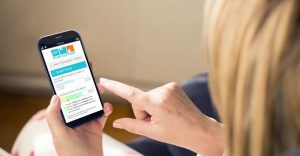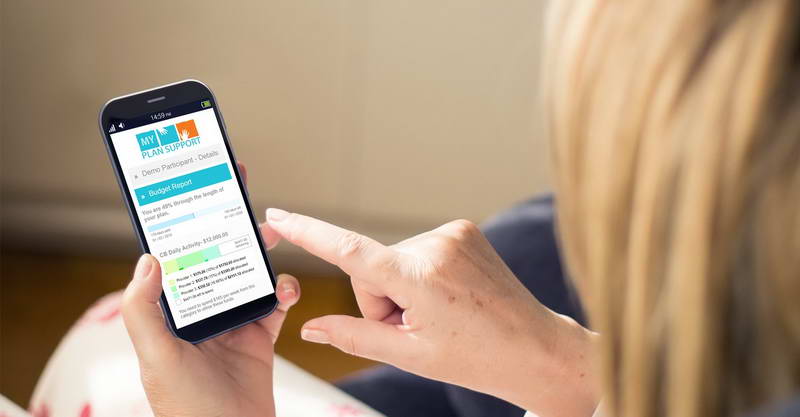 Live Participant Portal
Our state-of-the-art portal lets you monitor every aspect of your NDIS plan. (click to learn more)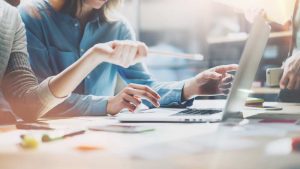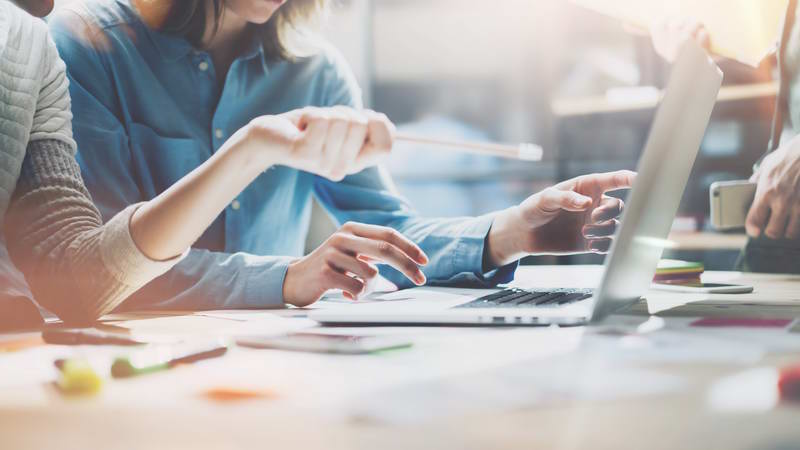 Best Plan Manager For Coordinators
If you're a COS, you really need to read this.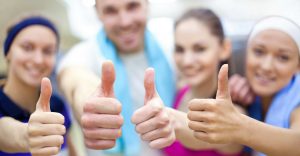 Great For Providers Too!
Learn how we empower providers with fast payments, monitoring and reports.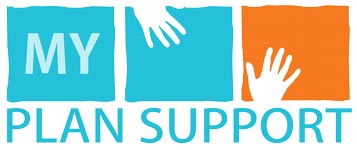 More About Us
Find out more about My Plan Support and how we became registered NDIS plan managers.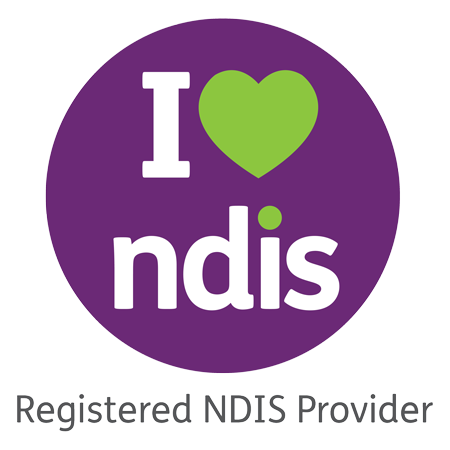 More About NDIS
Learn more about NDIS and plan management